Cannock Chase Crematorium helps local bereaved families with a £10,000 donation to South Staffordshire Cruse Bereavement Care
Cannock Chase Crematorium is delighted to announce that a cash donation of £10,000 has been made on behalf of the crematorium to the South Staffordshire branch of Cruse Bereavement Care, a charity offering support, advice and information to children, young people and adults when someone dies.
Cannock Chase Crematorium is a member of the Institute of Cemetery and Crematorium Management's (ICCM) metal recycling scheme, whereby residual metal items such as orthopaedic implants or metals used in the construction of the coffin are retained, following the cremation process, and recycled, with the written consent of the bereaved family.
The national ICCM scheme, introduced in 2006, has raised over £7 million since its inception to help fund bereavement related charities.
Jo Walker, Crematorium Manager, said: "We are delighted to donate this substantial sum of money to Cruse Bereavement Care who offer such valuable support to bereaved families across South Staffordshire. It was important to us that the scheme would benefit people living in Cannock and the surrounding areas.
This donation has only been made possible because families, in those very difficult days following the death of a loved one, have made the selfless decision to consent for us to collect the metals following cremation.
We understand this is a sensitive subject and we want to extend our gratitude to those families who have enabled this to happen.  Their consent is vital to the ongoing success of the scheme. We want those families to know that their decision has enabled Cruse Bereavement to help other bereaved families."
Liam Bennett, Assistant Manager, said: "We are mindful of taking every step to reduce the environmental impact of the cremation process. The metal recycling scheme, as well as benefitting local charities, reduces our environment impact as these metals were previously buried on crematorium land and their recycling reduces the need for metal ores to be mined."
Chris Hillman, Chair of South Staffordshire Cruse, said: "Our work with bereaved people has been dramatically impacted by the Covid-19 pandemic and the need for our vital services has never been greater. It costs £451 to train a volunteer to work with adults, £502 to train a volunteer to work with children, that's an additional 20 volunteers trained with this money. It costs £10 to answer a call to someone in need on our helpline, £5 to provide online grief chat to one person, £120 is an average cost to support one bereaved person with 1-2-1 sessions, and £885 per day to run our website supporting bereaved people online. It is easy to see just how much more support we can give to local bereaved people with the donation of £10,000 from Cannock Chase Crematorium. South Staffordshire Cruse supports people across Tamworth, Lichfield, Cannock & Stafford areas, it is 100% volunteer based with no paid members of staff."
If you feel you have what it takes to support bereaved people, please email southstaffordshire@cruse org.uk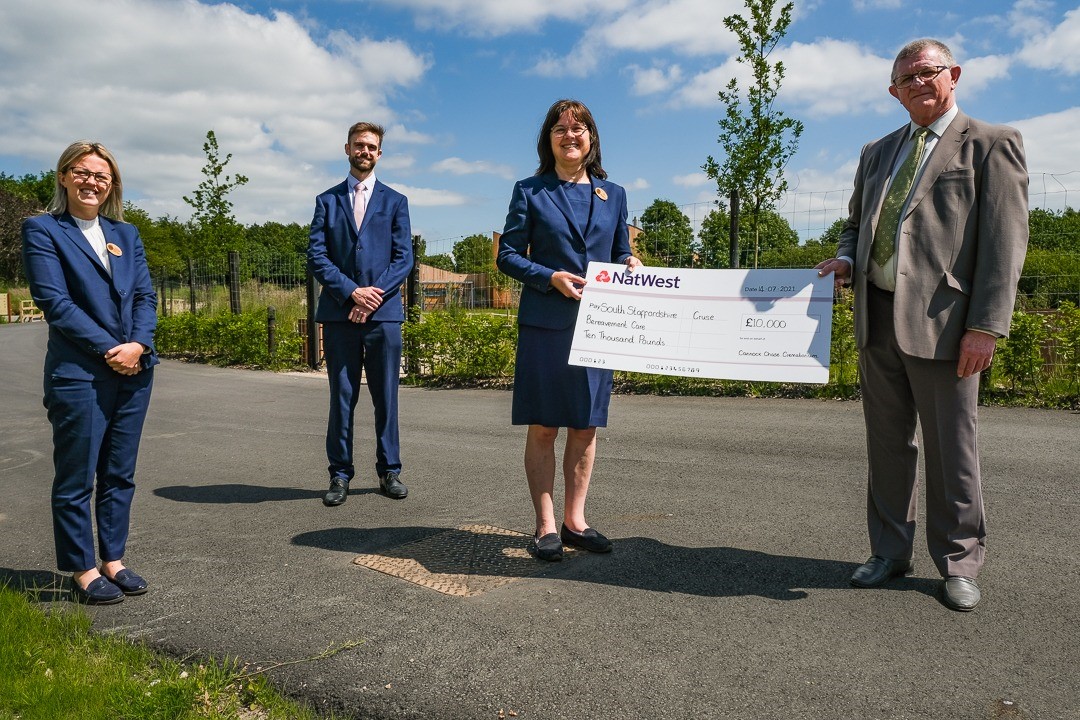 Millie Grimley, Liam Bennett and Jo Walker from Cannock Chase Crematorium presenting the cheque to Chris Hillman, the Chair of South Staffordshire Cruse Bereavement Care.